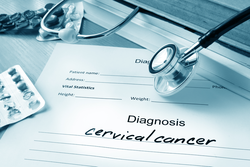 S3 Guideline on Diagnostics and Treatment of Cervical Cancer on the subject of hyperthermia
Excerpt from the S3 Guideline on Diagnostics and Treatment of Cervical Cancer on the subject of hyperthermia
The German Cancer Society (DKG) established the Information Center for Standards in Oncology (ISTO) in 1995 to implement a comprehensive quality assurance program with focus on oncological care. The creation of guidelines on the diagnosis, treatment and follow-up of malignant diseases plays a key role in this effort, since the recovery chances of patients with malignant neoplasms can only be improved by developing new diagnostic and therapeutic concepts and consistently applying proven methods. The requirements for generating such guidelines have become more stringent in recent years, not only in terms of methodology and technical criteria, but also with regard to financial aspects. The Oncological Guidelines Program (OL) was established in cooperation with the German Cancer Society (DKG), German Cancer Aid (DKH), and the Association of Scientific Medical Societies in Germany (AWMF) to address this problem.
This post discusses the S3 Guideline content on the use of regional hyperthermia.
The document contains an evidence-based recommendation, supported by strong consensus, to include loco-regional hyperthermia in the treatment of loco-regional relapses or primary cervical cancer ≥ FIGO stage IIB in combination with percutaneous radiation therapy.
According to the Cochrane meta-analysis published in 2010 [1], various non-blind, methodologically limited clinical studies of patients with cervical cancer in FIGO stage IIB-IVA (74% in FIGO stage IIIB) were able to demonstrate that combining radiotherapy with loco-regional hyperthermia (hyperthermia reaching a minimum temperature of 40°C) can result in a significantly improved response rate (RR 0.56; 95% CI 0.39-0.79; p < 0.001), a significantly reduced 3-year recurrence rate (HR 0.48; 95% CI 0.37-0.63; p < 0.001) and a significantly increased 3-year overall survival rate (HR 0.67; 95% CI 0.45-0.99; p = 0.05) with comparable acute (RR 0.99; 95% CI 0.30-3.31; p = 0.99) or long-term level III/IV toxicity (RR 1.01; 95% CI 0.44-2.30; p = 0.96). The aim of the Cochrane analysis was to examine whether adding hyperthermia to the standard therapy for cervical cancer in FIGO stage IIB-IVA would impact local tumor control, survival or treatment-related morbidity. Radiation was considered the standard therapy (with only one study involving radio[chemo]therapy). 74% of enrolled patients had non-recurring stage IIIB cancer and the application regimens for hyperthermia varied greatly. According to the authors, the uncertain data situation therefore does not permit any general recommendations to include hyperthermia in the treatment of FIGO stage IIB-IVA cervical cancer without remote metastases. A randomized phase III study compared HDR brachytherapy with combined HDR brachytherapy and interstitial hyperthermia in patients with cervical cancer who had completed radio(chemo)therapy. In contrast to regional deep hyperthermia, this combination therapy was not able to improve local control or disease-free survival [2]. A clear distinction is made between loco-regional, standardized deep hyperthermia performed with quality assurance [3, 4] and whole-body hyperthermia treatments, which are not appropriate for this therapy.
The Celsius42 TCS – Tumor Cell Solution hyperthermia system is optimally suited for implementing the recommended regional deep hyperthermia and offers an excellent balance between clinical outcome and staffing and financial expenditures.
We will be pleased to provide further information.
Your Celsius42 Team
[1] Lutgens, L., et al., Combined use of hyperthermia and radiation therapy for treating locally advanced cervical carcinoma. Cochrane Database Syst Rev, 2010(1): p. CD006377.
[2] Zolciak-Siwinska, A., et al., HDR brachytherapy combined with interstitial hyperthermia in locally advanced cervical cancer patients initially treated with concomitant radiochemotherapy - a phase III study. Radiother Oncol, 2013.
[3] Bruggmoser, G., et al., Guideline for the clinical application, documentation and analysis of clinical studies for regional deep hyperthermia: quality management in regional deep hyperthermia. Strahlenther Onkol, 2012. 188 Suppl 2: p. 198-211.
[4] Bruggmoser, G., et al., Quality assurance for clinical studies in regional deep hyperthermia.Strahlenther Onkol, 2011. 187(10): p. 605-10.